How common is distracted driving in Florida?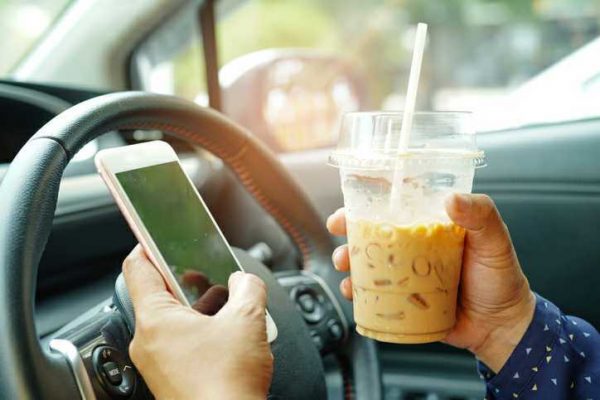 Some drivers can't seem to keep their eyes on the road and both hands on the wheel. Everywhere we look, we see motorists eating, drinking, taking care of personal hygiene, and engaging in other activities that have nothing to do with driving.
The problem has only gotten worse over years, thanks to the widespread use of cellphones and other handheld devices. Today, we have a lot more ways to become distracted by technology, with an array of apps that can be used in the palms of our hands. With a cellphone in reach, some drivers can't resist the urge to check social media notifications, FaceTime, or scan through their music playlist.
In the midst of the COVID-19 pandemic there may be fewer drivers on the road, but a lot of them probably have other things on their mind besides driving. New distractions include thinking about how to stay safe, remembering to wear a mask, how to follow social distancing recommendations, and anything else regarding the Coronavirus.
How likely am I to be involved in a crash caused by a distracted driver?
There's no way to predict when a distracted driver will rear-end you while you're stopped in traffic or broadside your car after running a red light.
The reality is that you could be sharing the road with several distracted drivers at any given time. A 2019 study conducted by Boston technology startup TruMotion Inc. offers a glimpse into just how prevalent distracted driving is around the country.
The TruMotion app is designed to track the cellphone activity of drivers. In the study, roughly 30,000 motorists downloaded the app in return for insurance incentives. TruMotion found that for every 100 drivers, there was at least one who was distracted 45-50 percent of the time while driving.
In addition:
2 drivers were distracted 35-40 percent of the time
3 drivers were distracted 30-35 percent of the time
5 drivers were distracted 25-30 percent of the time
7 drivers were distracted 20-25 percent of the time
10 drivers were distracted 15-20 percent of the time
These figures only include the participants who downloaded the app, which means there's likely many more distracted drivers on the road than the study indicates.
Does Florida's distracted driving law prevent crashes?
Florida's hands-free law was passed less than a year ago. At the beginning of 2020, police officers began issuing citations to drivers who use cellphones in school zones and construction zones. In addition, drivers are prohibited from texting on all roadways.
Florida's law may help reduce crashes caused by distracted driving, but it's unlikely to prevent them entirely because:
Law enforcement can't be everywhere all the time.
Some drivers are good at hiding their cellphone use.
The law does not apply to other forms of distracted driving (such as using infotainment systems or multitasking).
A lot of drivers will continue to break the law (e.g., drunk driving and speeding).
What should I do if I was injured in a crash caused by a distracted driver?
You have the right to take legal action if a distracted driver caused your crash, but you should never try to handle your claim on your own. You should also never trust the insurance companies. They know how to take advantage of injured motorists who may not fully understand their rights.
Instead, insurance companies might try to blame you, despite clear evidence that the other driver was at fault. While they may try to convince you to accept a small settlement, these offers rarely come close to covering all your accident-related expenses, including medical bills, lost wages, and other damages.
That's why we recommend you don't talk to the other driver's insurance company after you've been in a car accident. Talk to an experienced Florida car accident lawyer instead. That way, you'll understand your rights and keep from saying something the insurance companies can use against you.
Why should I choose Pajcic & Pajcic to handle my distracted driving accident?
The attorneys at Pajcic & Pajcic have more than 45 years of experience helping injured motorists get the compensation they need and deserve. If you were involved in a distracted driving crash caused by someone using a cellphone, our legal team can obtain the driver's cellphone records with a subpoena and use those records as a powerful piece of evidence to support your claim.
We know the law, we understand how Florida's legal system works, and we have the case results to prove it. We've handled thousands of distracted driving cases in Jacksonville and throughout Florida, including a case that resulted in a $4.5 million verdict for a client who sustained severe injuries after being hit by a distracted driver at an intersection in St. Augustine.
We also helped the family of a motorist killed by a truck driver obtain $5.25 million in compensation. The motorist was killed while stopped at a construction site. The truck driver ignored several warning signs and showed no signs of braking.
Learn more about how we can help you. Schedule a free and confidential case evaluation with our law firm. Simply fill out our contact form online or call us at (904)-358-8881.