Jacksonville Pedestrian Accidents Increasingly Driven by Distraction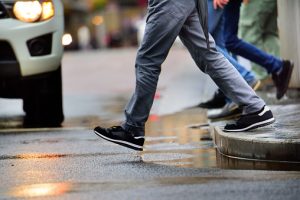 Florida has never been an especially safe state for pedestrians. Jacksonville in particular is one of the most perilous spots, pulling in 379 pedestrian deaths from 2004 to 2014, with a Pedestrian Danger Index (pedestrian deaths relative to the number of people who walk to work in the region) at 229 – ranking it nationally as the 4th most hazardous city for pedestrians.
A new report from the Governors Highway Safety Association indicates the number of pedestrian deaths nationally spiked to over 6,000 last year – the first time in 20 years it's reached that level, marking an 11 percent increase in just a single year.
Initially, researchers were confounded by this, given that vehicles have gotten safer and our traffic engineers have been designing smarter thoroughfares with varied road users in mind. The one major difference, they now say, is the degree of distraction – and that doesn't just include drivers.
Pedestrians too are increasingly absorbed in their smartphones. The Pew Research Center earlier this year reported more than three-quarters of Americans now use smartphones. That's 77 percent as of November 2016, as compared to 35 percent in 2011. And just as smartphone usage can be a deadly action for drivers, this ruling applies to pedestrians as well.
A spokeswoman for the National Safety Council, commenting to NPR on the national increase in pedestrian accident deaths, said while it stands to reason these incidents would go up along with the overall number of traffic fatalities (which rose 6 percent), the degree of increase was unexpected. Yes, there is a stronger economy and, thus lower gas prices, which means more cars on the road. Experts believe smartphone distraction explains the disparity.
Although distracted walking and cycling isn't something traffic safety officials have been formally tracking the way they have distracted driving, that could change if this trend continues.
The GHSA reports Florida had 301 pedestrian accident deaths just in the first six months of last year, an increase of nearly 9 percent from the same time frame in 2015, when there were 277. Four states – Florida, California, Texas and New York – accounted for more than 40 percent of all pedestrian accident deaths last year.
In looking at Florida's pedestrian fatality rate (per 100,000 population), Florida ranked No. 2, at 1.46.
Jacksonville pedestrian accidents wherein distraction by the pedestrian was a factor can still result in successful litigation, though it depends on the circumstances. F.S. 768.81 is Florida's comparative fault law. Essentially it holds that a person who is partially to blame for their own injuries can still recover damages from other responsible parties – even if the person injured was mostly responsible for the incident.
So if a jury finds a pedestrian is 65 percent liable for an accident, he or she can still recover the remaining 35 percent in damages. Plaintiff pedestrian will still have to show the driver of the motor vehicle involved was also negligent, meaning:
Driver owed a duty of care.
Duty of care was breached.
Breach of duty caused pedestrian injury.
Representatives at the North Florida Transportation Planning Organization say Jacksonville does need to make changes to its infrastructure to improve pedestrian safety. Current efforts are underway to do this, particularly inside Interstate 295's loop around the city. A report issued by a consultant last year indicated the city has a citywide traffic safety problem, particularly with notably absent basic pedestrian safety infrastructure, such as crosswalks and sidewalks.
Injured pedestrians may have grounds to pursue a claim for damages against the city or other government entity responsible for road design or maintenance if they can show the government agency knew or should have known about a dangerous condition and failed to address it.
If you or a loved one have been involved in a pedestrian accident, you need representation. Contact us today for a free consultation.