Infotainment Systems May Be More Distracting for Older Drivers in Jacksonville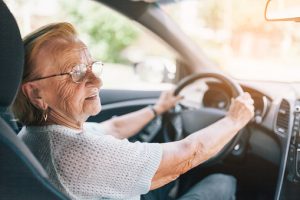 Technology doesn't have to be held in the palm of your hand to cause distraction behind the wheel. In fact, many new cars come standard with built-in infotainment systems that entail many of the same features found in a smartphone. They could include GPS navigation, phone calls, food ordering apps, and music streaming services.
Infotainment systems can cause drivers to take their eyes off the road, hands off the wheel, and attention away from the road – even among the savviest users. Infotainment systems tend to cause even more distractions for older drivers, according to NBC News.
How are older drivers impacted by these high-tech infotainment systems?
NBC references research conducted by the University of Utah and carried out by the AAA Foundation for Traffic Safety. The study included six different vehicle models manufactured in 2018 and involved 128 participants from two different age groups: 21-36 and 55-75. Both groups were asked to make calls, send text messages, tune the radio, or program a GPS by using voice commands and touch screens.
"Drivers will shift their attention back and forth from the driving task to the in-vehicle task," said William Horrey of the AAA Foundation for Traffic Safety. "If they're taking long glances inside the cabin, that's particularly risky."
During the evaluation, participants performed these tasks while traveling on a two-mile stretch in a low-traffic residential area with a posted speed limit of 25 mph. A representative in the study sat in the passenger seat, monitored drivers, and collected data.
Both groups experienced some challenges when performing these tasks behind the wheel. The 55-75 group, however, was found to be far less experienced with the technology. The older participants found performing these tasks to be more time-consuming and require too many steps. In addition, it took older drivers roughly 4.7 seconds to 8.6 seconds longer to perform these tasks than their younger counterparts.
How can driving distracted be prevented?
What we have learned from this study is, infotainment systems should only be used for legitimate and emergency-related purposes. Otherwise, drivers should pull over and park somewhere safe when programming a GPS, browsing their music playlists, making calls, sending texts, or using other apps. They should also do so before they begin their trip or after they reach their destination, but never while driving.
Additionally, the use of infotainment systems for emergencies or urgent purposes should be made easier in order to avoid distraction. Manufacturers should consider doing the following:
Improve voice-command technology
Make software menus easier to use
Remove complex center console controls
Position system controls so drivers don't have to take their eyes off the road
Distracted driving is one of the leading causes of serious and fatal crashes. According to the National Highway Traffic Safety Administration, it resulted in 3,166 fatalities on roads across the US. These crashes can be prevented when drivers uphold their duty and make a habit of staying focused and attentive.
If you or a loved one was injured in a crash with a distracted driver, don't hesitate to consult with an experienced Jacksonville car accident attorney at Pajcic & Pajcic. We have a proven track record of successfully advocating for injured motorists in Jacksonville and our case results prove it. Contact us today to find out how we can help you.