Trial Attorney
Michael Pajcic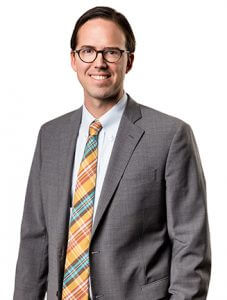 Michael Pajcic had the benefit of growing up watching his father Steve and his uncle Gary as trial lawyers. He always knew he wanted to practice law with his family members one day. Michael joined The Law Firm of Pajcic & Pajcic in 2010 after honing his skills in the courtroom as an Assistant Public Defender in Gainesville. After just a year and a half there, he was promoted to the felony division.
Michael is an AV rated attorney. He graduated from Princeton University where he was an Outdoor Action Leader, serving as a role model and mentor to fellow students. He graduated from the University of Florida Law School with honors. He has handled multiple jury trials at the Pajcic firm and says he likes being able to help the little guy against the big insurance companies.
Personal Interests
Michael's wife Katy DeBriere is a Staff Attorney at Jacksonville Area Legal Aid where she runs the Northeast Florida Medical Legal Partnership.   Michael and Katy share interests in cooking and biking and spending time with their young daughter. Michael also enjoys soccer, yard golf, ping pong and kayak fishing. Michael and his father, Steve are avid bicyclists who usually pedal to work. Both took part in a festival to promote bicycling as an alternative to automobiles. Michael can often be seen taking the stairs instead of the elevator to his 19th floor office. In addition to helping people in the course of his legal work, Pajcic shares his father's passion for helping the community in which they live.
Public Service
Michael is involved in raising money for Jacksonville Area Legal Aid. He and his father organized a Wiffle Ball golf tournament raising more than $40,000 for the organization that provides legal services for those who could otherwise not afford them. Michael has volunteered on many political campaigns and has volunteered as a youth soccer coach in the past.
Education
Princeton University (A.B., 2004)
University of Florida (J.D., with honors, 2008)
Memberships
Florida Justice Association
Jacksonville Justice Association
American Association for Justice
Credentials
Michael Sather Pajcic, born Jacksonville; admitted to the bar 2008, Florida.
Practice Areas