Landowner Pays $1 Million Policy Limits to Teenager on ATV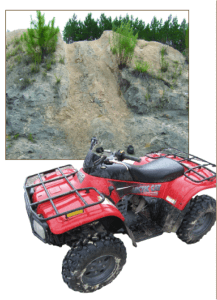 John had just graduated from high school when his cousin invited him out to his uncle's farm to go riding on their ATVs. The cousins rode down Cowpoke Road to a development site with lots of trails.
When John came over the top of a small hill, he was surprised by the steep dropoff and the ATV flipped over.
John, who was not wearing a helmet, suffered catastrophic head injuries. The uncle's homeowner's insurance paid its limits because John was not provided with a helmet. That money barely covered the lien for John's past medical bills.
Fortunately, Pajcic & Pajcic's investigation revealed another avenue of recovery. The land had deceptively dangerous trails. In fact, another rider had been seriously injured in a similar accident on the property only a few months before John. Yet the owner had done nothing to maintain the trails, limit access to them, or warn about them.
In response to Pajcic & Pajcic's settlement brochure, the insurance company for the landowner timely tendered its $1 million limits. While the settlement will not provide for all the care John needs, a special needs trust will enhance his future quality of life.