7 Figures in Products Liability Settlements for Georgia Man Catapulted to His Death on Faulty Equipment
On the outside, Jack Doe was a strong and tough Marine who fought in Vietnam. To his loved ones, he was a kind and generous family man with a heart of gold. Jack' wife, children and grandchildren were his world. Even at age 66, he was still working hard at his job where he removed power poles.
One day, he was on a piece of industrial equipment that had just passed an annual safety inspection the day before. Yet when Jack was in the process of removing a pole, there was a catastrophic failure of the bolts on the machine and Jack was literally flung off the equipment and landed on the hard concrete 20 feet below.
His wife and son were notified and rushed from Georgia to the Jacksonville hospital where he was taken, but while enroute, they got the call that he did not survive. It was determined Jack died of blunt head trauma.
Pajcic and Pajcic's team went to work to figure out what went wrong. Pajcic investigators were able to track down a surveillance video that police did not find. The graphic video depicted Jack being vaulted off the faulty machinery. This was key to reaching 7 figures in confidential products liability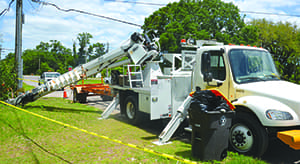 settlements with three different defendants.
Jack's devastated family will never get over the fact that he died so violently and senselessly. They will always regret that he never got to hold his first great-grandchild who was born the day before he died.