$13 Million Verdict in Log Truck U-Turn on U.S. 1
The case was tried in the old Victorian courthouse on Center Street in historic Fernandina Beach. The jury represented the broad demographics of modern day Nassau County. The verdict rendered justice to "Turtle" Doe who had been doomed to adolescence by a poorly lit log truck attempting a U-turn on U.S. 1 in pre-dawn hours.
Turtle had spent the night at her boyfriend's house near the Okefenokee Swamp in Georgia. He was driving Turtle back home so that she could get ready for school at Hilliard High where she was completing her senior year. The Doe homestead was in the woods back behind the DOT weigh station just across the state line.
Log trucks coming from Georgia timberlands to Fernandina mills routinely took backroad detours to avoid the scales on U.S. 1 and potential fines for overweight loads. On the morning of the accident, a DOT officer caught one of those log trucks and led it back north to the station.
When the truck left the station, it was now headed back to Georgia. The trucker then did what he and his company had done on numerous prior occasions when they had been caught trying to bypass the station. Barely a mile north of the station at a median opening to a dirt road, the log truck slowly made a U-turn.
Turtle's boyfriend braked and swerved into the median but still slammed up under the truck. Logs shattered the windshield and the boyfriend's toolbox came up over the back of Turtle's seat.
Turtle suffered a catastrophic brain injury. She has recovered enough to superficially look and seem normal. But she still limps and has intermittent tremors. Most tragically, the brain injury has left her without the mature judgment necessary to live independently.
At trial, liability was hard-fought with dueling experts on accident reconstruction, visibility, seatbelt biomechanics, and trucking safety. The jury weighed the testimony and decided against any punitive damages. It allocated 55% of the fault to the driver of the log truck and 10% to the company owner. DOT got 25% for the design and signage of the cut-through. Turtle got 10% for not wearing her seatbelt.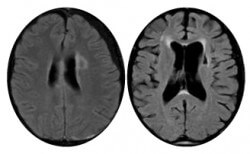 The jury was able to appreciate the magnitude of Turtle's injury despite the normalcy of her outward appearance. They awarded $6,582,861 for economic damages, mostly attendant care, and $6,325,000 for pain and suffering and loss of capacity to enjoy life. The trial court has denied the motion for new trial, but the log truck defendants have filed a notice of appeal. Turtle's family still watches over her and waits for the day when they will have help and Turtle will have her own place on the family homestead with a little consignment shop in downtown Hilliard.